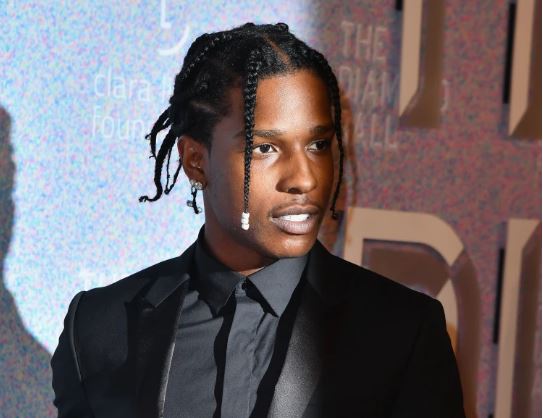 ANGELA WEISS/AFP/Getty Image
U.S. State Department addresses ASAP Rocky Situation
New involvement in the ASAP Rocky situation, hopefully with help from the state department he can be released and home soon. The U.S. Department of State recently issued a warning to the Swedish government over the treatment of rapper ASAP Rocky. When an American is arrested in another country they have the right to see an official from the U.S. Consulate. Rocky requested the meeting but when the consulate official arrived he was denied access which is a violation of the Vienna Convention treaty. Sources say that the U.S. official believes he was denied access because of the conditions inside the facility.
ASAP Ferg brought light to the dark conditions letting the world know that Rocky was being held in solitary confinement without call or visitation privileges. Reports circulated around the internet claiming that ASAP Rocky was sleeping on a yoga mat near an inmate with metal health issues and was being provided with unclean drinking water and food while calling the prison disease ridden. Per TMZ that inmate, often slams his head against the wall and throws feces, making a mess that hasn't been cleaned.
Fredrik Wallin a prison official familiar with the conditions shared a contradictory statement of the prison conditions. He couldn't comment on individual prisoners but claimed that the prisons were in good condition and that he was unaware of any current diseases.
The rappers who real name is, Rakim Mayers, is currently being held while prosecutors decide whether or not to charge him with aggravated assault. This situation started with a street brawl that shows the alleged victim harassing and physically attacking Rocky and his crew just moments prior.
ASAP Rocky and three other people, were then arrested after voluntarily going to the police for questioning. This all took place after his performance on July 2nd at the Smash festival in Stockholm. Rocky, was ordered by a Swedish court to be held in pre-trial detention for two weeks but could then possibly face a lesser assault charge. If convicted, Rocky could be facing up to six years in prison.
Artists like Schoolboy Q and Tyler the creator have spoken out in protest of Rocky's treatment. Tyga even cancelled his show.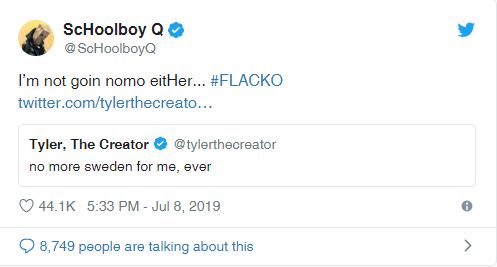 In a statement given to Politico a spokesperson for the department of state said, "There are certainly some facts about the arrest and detention that raise concerns. We expect all governments, including Sweden, to treat American citizens fairly and with respect. We hope to see A$AP Rocky and his colleagues back on tour and reunited with friends and family soon." This statement came after Congressman Adriano Espaillat, U.S. Representative for New York's Thirteenth Congressional District, swore to "fight until he's brought back home." Happy to see the pressure being applied to #FreeASAP.
Monday July 22nd Update:
Swedish prosecutors have dropped all charges against one of the men involved in the street fight which led to ASAP Rocky's arrest. Prosecutors also said the investigation against Rocky, 30, and two members of his team is still ongoing. At the prompting of Kanye West and Kim Kardashian-West, US President Donald Trump intervened and asked for Rocky's immediate release.
According to CNN Toni Eriksson, a spokesman for Swedish Prime Minister Stefan Löfven, said it was "pointed out" to Trump that "everyone is equal before the law and that the government neither can nor will try to influence the judicial process. On Friday, Swedish prosecutors were granted extension to continue with an investigation into assault allegations against Rocky. ASAP will remain detained until at least Thursday, July 25th, At that point, another hearing is set to see if ASAP should be released.
"Sources connected to the case" told TMZ that the intervention by the U.S State Department and President Trump could actually end up backfiring in their ongoing effort to try and get the artist and crew released. While no media outlet has been clear on specifics. The aforementioned sources think that there could be resentment from Swedish prosecutors do not want to look like they're easing up due to U.S. intervention.
Magic 101.3 will continue to update this page as news on ASAP Rocky breaks.